Real-Time General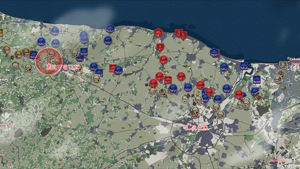 It's WWII — June 6th, 1944. You're a General, and all you have is a map, a radio, and four hundred other players. Will D-Day be a success, or will the Allies be pushed back into the sea?
Real-Time General is a massively-multiplayer collaborative strategy game where each campaign lasts two-months in real-time. ALL actions take however long they would in real-life — digging trenches takes hours, fighting can last days.
My role in this project was primarily to work with the server-side code relating to networking, but I also optimized various aspects of the game's implementation to ensure thousands of units could be simulated and shown on screen at once, and I transformed geographical and street data into a format suitable for displaying for the game. I additionally built several tools to monitor and manage the online server infrastructure.